Hoist Push Button Switch is a pendant control, which connected with electric chain hoist, crane hoist, etc
This model is belong to C series. Except this kind, we also have XAC series(Schneider Model),Y series, F series, H series, etc,
Also, the button is from 2 button to 20 button. it according to the model of pendant , single or double speed control system. Mechanical interlock for safety reason.
Description:
Model: AR1-61CS (2 single speed button with emergency stop)
Working Current: 5A
Working Voltage: 500V
Ui:500V lth:10A  AC-15
500V-2A  250-5A
Button No.: 2  button with emergency stop
Speed: Single
Working temperature: -45~55(℃)
Material: Yellow ABS enclosure
Warranty: 12 months
Advantage:
Various buttons pendant models (from 2 button to 16 buttons)
Light Wirght
Standard emergecny switch to cut off the power

Durable

Yellow ABS enclosure

Ultra-long service life
Contacts rated 5A at 500VAC
Basic :
| | |
| --- | --- |
| Brand | Acontrol |
| Model: | AR1-61CS |
| Housing Color | Yellow |
| Number of Buttons | 2 |
| Button Color | Black |
| Speed | 1 |
| Start Type | Rotary |
| Button Type | Combination |
| Button Text | Arrow Tip |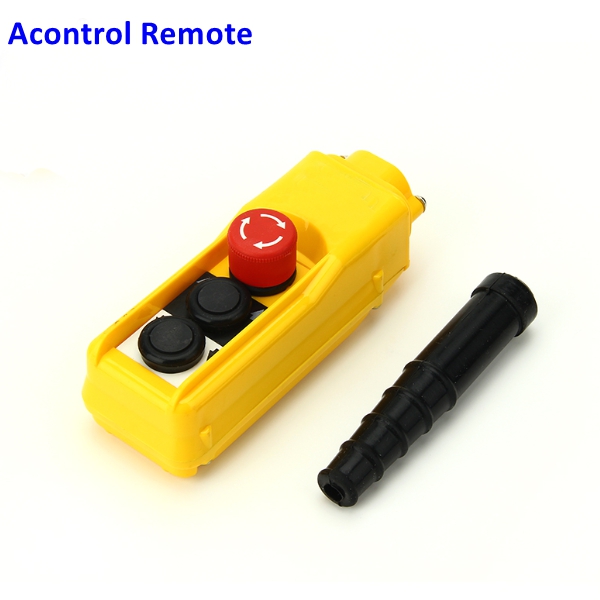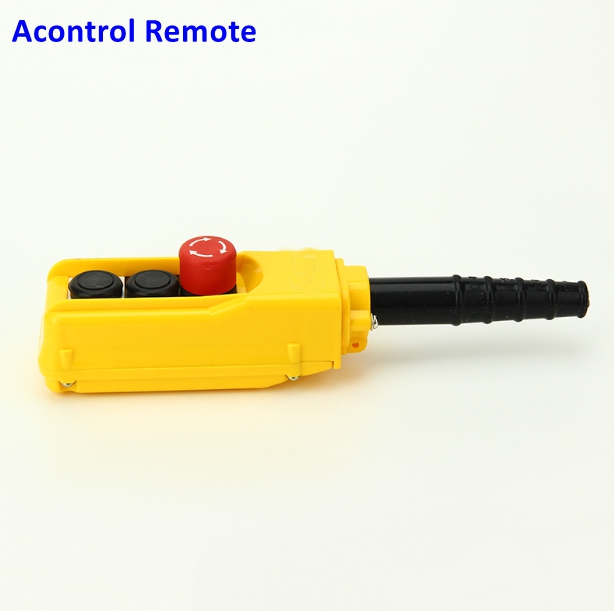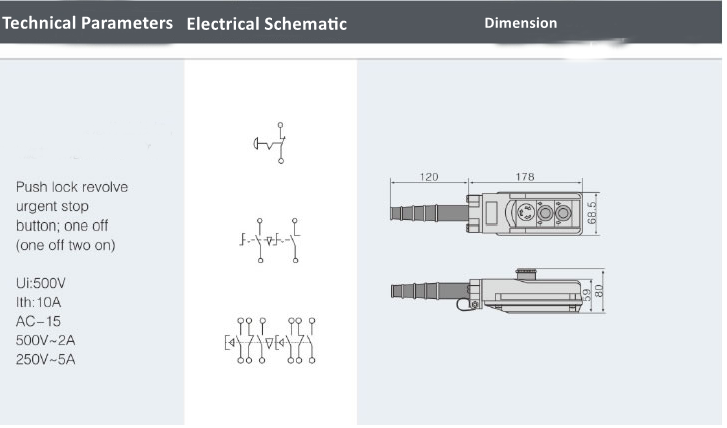 Packing Size:
1 piece per box,  32pcs per carton:41.5 * 39 * 34cm
Hoist Push Button Swtich are ideal for 
 Workstation crane
 Monorails and hoist control
Electric Chain Winch
Assemble lines
Car Transfer
Electric chain Hoist
Devit crane
Lift
Garden Machine
Power lifts of truck
Electric chain Lift
Other moving equipment you want to control
FAQ:
1. Sample to test is available
2. Customized Brand is available 
3. Delivery Fast:  3-4 days for sampling and 7 days for small volume orders
4. CE,FCC standard 
5. OEM order if you need.