Telecrane radio remote control has been used in many fields, such as crane, construction crane and so on. The crane radio control system has two independent parts, the receiver and the transmitter, and the working range is up to 100meters, operating frequency is 310-331Mhz or 426-445Mhz, total 160 channels.
To improve your work efficiency and keep your worker's safy, wireless remote control will be your best choice, single speed or double speed. Except 4 button, we have different number of button, such as 2 button, 4 button, 6 button, 8 button ,10 button, etc. 
High quality with reasonable price will offer you by acontrol remote, send your reuqirement or information to us, proper model will be offer you.
Thus, this model are popular in UK market, can be used for mobile lifting, electric cart, hoist, winch, superwinch , etc or other equipment you want to control.
---
Specification:
Control distance: up to 100m
Unique code : over 4.3billon unique ID codes .
Working temperature : -35°C___ 80°C
Enclosure protection class : IP65
Transmitter power: DC3v
Receiver Voltage:DC12V,DC24V,AC36,AC48V,AC110V,AC220V,AC380v,etc
Output capacity: full sealed relay output with 5 amperes
---
Connection Diagram: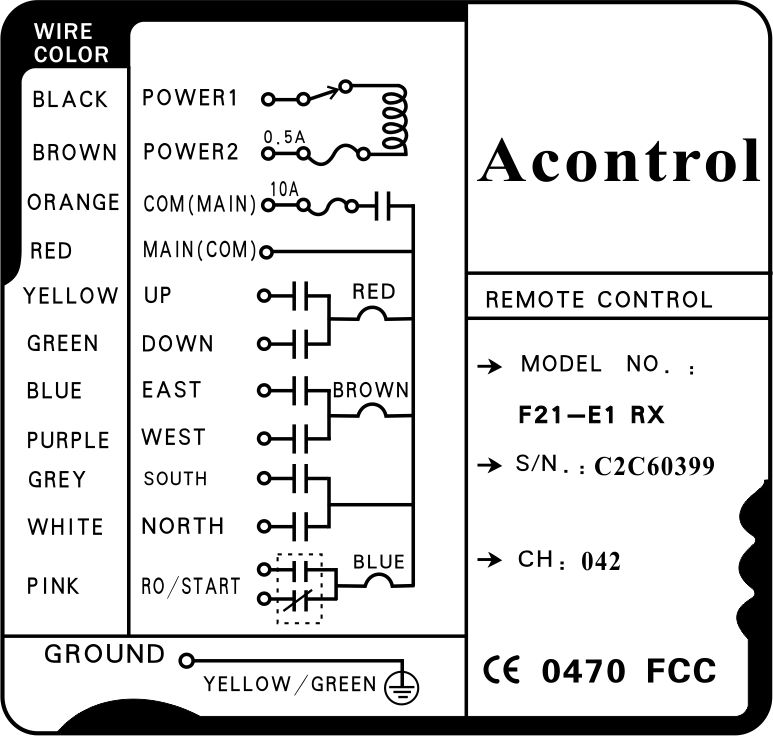 Standard configuration:
One transmitter ;
One receiver;
One 1m cable connect with receiver
One operation and maintain manual .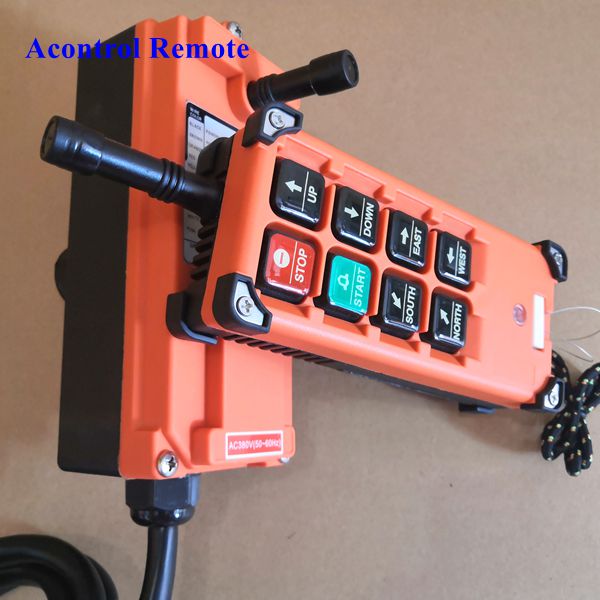 ---
Basic Information:
| | |
| --- | --- |
| Model | F21-E1B |
| Control Motions | 7 |
| Frequency | Crystal |
| Structure | Glass-Fiber |
| Operation Frequency | 310-331 MHz |
| Control Distance | up to 100 meters |
| Color | Yellow |
| Working Temperature | -35°C-+80 ºC |
| Output Capacity | Full Sealed Relay output with 5 amperes |
| Transmitting Power | Less Than 10mw |
Advantage:
Ergomic and lightweight design
Safe and reliable
Fully sealed enclosures
User-programmable channels
Removable power key switch
Advanced controls
Why do you need crane remote control? 
For a one-man crane operation, it will be very useful to have because if you are using crane, the last thing you want is to transfer some equipment. So if you are  20meters away or 30meters away from the machine while holding a hose and then you find out you got a plug, you got to run back to the machine, stop the crane, and throw it in reverse. But if you have a wireless remote control, you can stop the machine right on the spot no matter what are you doing
Wireless remote controls can reach all the way up to 100 merters in vertical and horizontal distances. They normally come with 2 AA batteries which are easy to find anywhere and are water proofed for those rugged applications.
Package: 
1 set per box 
6 sets per carton 
Delivery Time: 
3-7 working days after receive your full payment .