Electric Hoist Remote Control is designed by Acontrol to easy to operate to keep workers safety.
There are two parts, one is handle and the other is receiver which installed on equipment.
---
Products Application:
Electric Hoist Remote Control model  are mainly applied to single hook electric cable hoist, monorails, single speed electric hoist or electric single speed hoist crane and used for industrial remote control which are under 4 connection.
---
Specification:
Control distance: up to 100m
Unique code : over 4.3billon unique ID codes .
Working temperature : -35°C___ 80°C
Enclosure protection class : IP65
Transmitter power: DC3v
Receiver Voltage:DC12V,DC24V,AC36,AC220V,AC380V,12-72V or tell me your requirement.
Output capacity: full sealed relay output with 5 amperes
Standard configuration:
One transmitter ;
One receiver;
One 1m cable connect with receiver
One operation and maintain manual .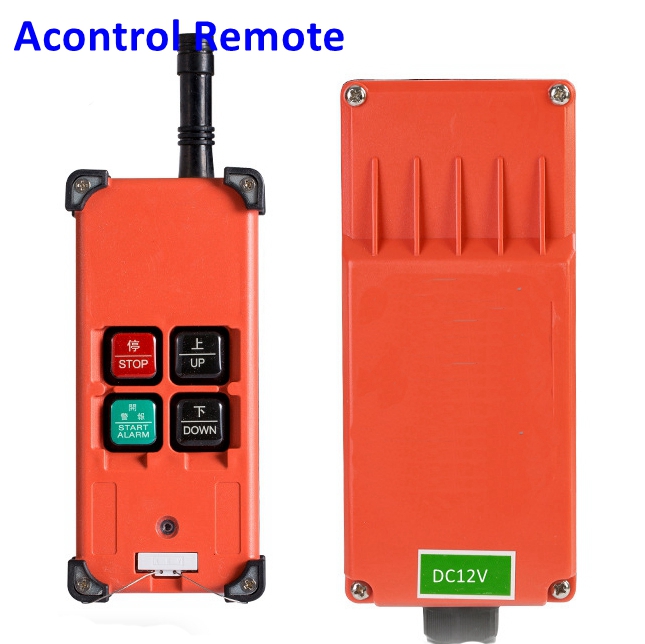 ---
Specification:
| | |
| --- | --- |
| Brand  | Acontrol  |
| Material  | Glass fiber-reinforced nylon |
| Distance | 100 meters  |
| Color  | Yellow |
| Model | AR1-2S |
| Temperature | -35°C ~ +85°C(Regardless of the battery temperature tolerance) |
| Enclosure protection class | IP 65 |
| Receiver power | DC12V,DC24V,AC36,AC220V,AC380V,12-72V or tell me your requirement. |
Why do you need crane remote control? 
For a one-man crane operation, it will be very useful to have because if you are using crane, the last thing you want is to transfer some equipment. So if you are  20meters away or 30meters away from the machine while holding a hose and then you find out you got a plug, you got to run back to the machine, stop the crane, and throw it in reverse. But if you have a wireless remote control, you can stop the machine right on the spot no matter what are you doing
Wireless remote controls can reach all the way up to 100 merters in vertical and horizontal distances. They normally come with 2 AA batteries which are easy to find anywhere and are water proofed for those rugged applications.
Delivery Time: 
3-7 working days after receive your full payment .