Crane Remote Control Manufacturers has been used in many fields, such as crane, construction crane and so on. The crane radio control system has two independent parts, the receiver and the transmitter, and the working range is up to 100meters, operating frequency is 310-331Mhz , total 80 channels.
To improve your work efficiency and keep your worker's safy, wireless remote control will be your best choice, single speed or double speed. Except 8 button, we have different number of button, such as 2 button, 4 button, 6 button,10 button ,12 button, etc. 
High quality with reasonable price will offer you by acontrol remote, send your reuqirement or information to us, proper model will be offer you.
Thus, this model are popular in UK market, can be used for mobile lifting, electric cart, hoist, winch, superwinch , etc or other equipment you want to control.
1 full set including 1 piece transmitter and 1 receiver, however it is not always a necessity — depending on how many people you got operating the equipment and what kind of setups do you need. Normally, you will be required to either use one or not required at all.
Standard Set:
1. One transmitter
2. One receiver
3. One cable connect with receiver
4. One operating and maintain manual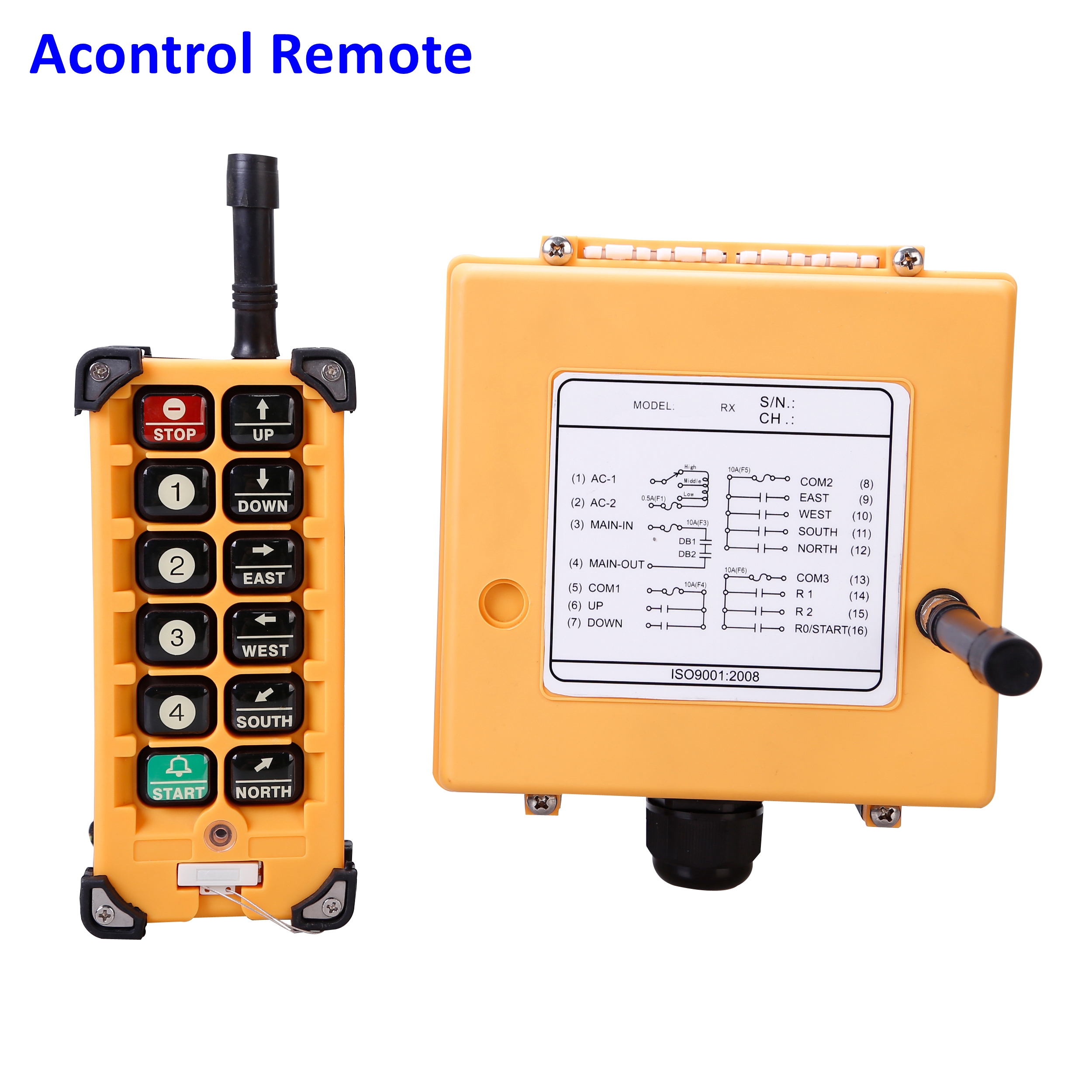 Description:
1.Mode:F23-A++
2. 8 single speed button + 1 start + stop
3. Ac 220v 0R AC380v
Product Details: 
| | |
| --- | --- |
| Usage/Application | Used for youtube remote control crane  |
| Material | Glass fiber-reinforced nylon |
| Receiver Power | DC12V,DC24V,AC36V,AC48V,AC110V,AC220V,AC380V  |
| Transmitter Size | 16.4×7.5×4.5cm |
| Working Temperature | -35°C ~ +85°C(Regardless of the battery temperature tolerance) |
| Frequency | 310.0325-331.165MHz |
With years of exporting experience in China, we are dedicated offering reasonable price of crane remote control and best quality that is mainly used for EOT crane, hoist, winch, lifting equipment and other material handing equipment.
Featueres: 
Control distance: up to 100 meters 

Total control motion can reach 9

Earthquake-reduction design to avoid demage from sudden shake and falling 

For Emergency circumstances, you can take our magnet key to cut down the power on a moment

Water-proof, IP65, used for inside and outside

Free transmitter protecting cover available. 
Connection Diagram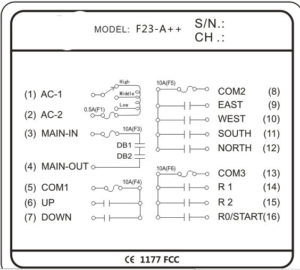 Why do you need crane remote control? 
For a one-man crane operation, it will be very useful to have because if you are using crane, the last thing you want is to transfer some equipment. So if you are  20meters away or 30meters away from the machine while holding a hose and then you find out you got a plug, you got to run back to the machine, stop the crane, and throw it in reverse. But if you have a wireless remote control, you can stop the machine right on the spot no matter what are you doing
Wireless remote controls can reach all the way up to 100 merters in vertical and horizontal distances. They normally come with 2 AA batteries which are easy to find anywhere and are water proofed for those rugged applications.
Package: 
1 set per box 
10 sets per carton 
Delivery Time: 
3-7 working days after receive your full payment . 
Application:
EOT crane
Overhead crane
Bridge crane
Single girder overhead crane
Double girder overhead crane
Top running overhead crane
Under hung overhead crane
Workstation overhead crane