Overhead Crane Remote Control  has two independent parts, the receiver and the transmitter, and the working range is up to 100meters, operating frequency is 310-331Mhz or 426-445Mhz, total 160 channels.
To improve your work efficiency and keep your worker's safy, wireless remote control will be your best choice, single speed or double speed. 
High quality with reasonable price will offer you by acontrol remote, send your reuqirement or information to us, proper model will be offer you.
It allows operators to improve productivity and ensure safety of lifting processes with minimal down times.
It is an important role in crane industry.
Except 8 button, our button number is from 2 button to 20 buttons to suit for different equipment.
---
Crane Radio Remote Control feature:
1.  Model: F24-8S
2. 1 transmitter with 1 receiver
3.  Single Speed
4,. 8 function button
5. CE,FCC approved
6. Control distance: 100 meters
7. Industrial Use.
8.AC110V
Basic Information of F24-8S
Transmitter
Control Type
Wireless
Shell Material
Fiber Glass PA
Waterproof Class
IP65
Operating Frequency
VHF 310-331Mhz or UHF 425-441Mhz
RF Power
<10 DBm
Transmitter Power
DC3V (2* AA battery )
Control Distance
up to 100 meters
Button Number
8 button + Emergency Stop + 1 start
Button Text
Arrow tip or English or Customized
Receiver
Control Type
Wireless
Shell Material
Fiber Glass PA
Waterproof Class
IP 65
Operating Frequency
VHF 310-331 Mhz or UHF 425-441 Mhz
RF Power
<110 DBm
Receiver Power
DC12V,DC24V,AC36V,AC48V,AC110V,AC220V,AC380V
Output Methods
Relays
Working Temperature
 -35°C ~ +85°C
Connection Diagram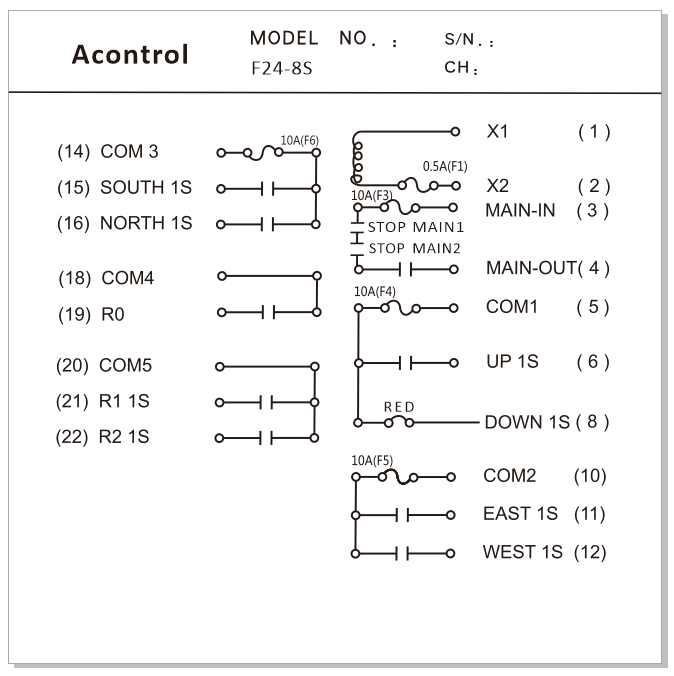 Standard configuration:
1. One transmitter
2. One receiver
3. One cable connect with receiver
4. One operating and maintain manual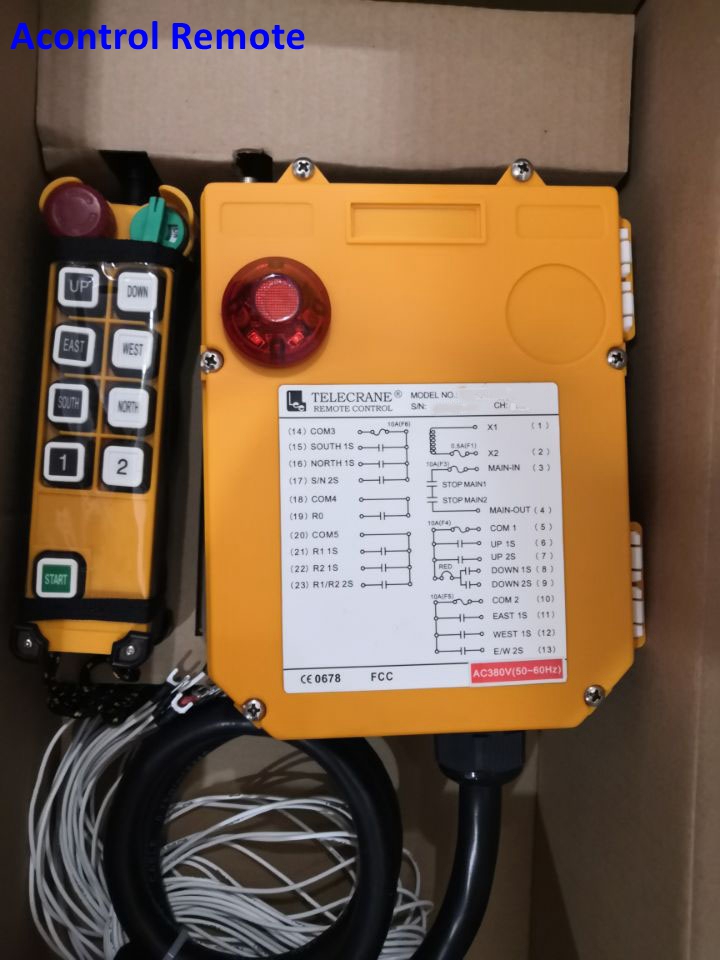 Notes:
The Led on the front of the transitter indicates the condition of the batteries.
It will flash green during operation if the battery power is sufficient and will flash red if the battery power is depleted.
Delivery Time:
For small order: 3-7 working days after receive your full payment
FAQ: 
Q: Is there a warranty?
A: all our branded products are guaranteed for 12 months. We provide 24-hour after-sales service and technical support. Please feel free to contact us if you find any problems during installation.
Q: Will you provide after-sales service?
A: of course
1) all products are subject to strict factory quality inspection before packaging.
2) all products are packaged in our factory, and the second package is delivered through express service before shipment.
3) if there is any problem during operation or installation, please feel free to contact us and we will solve it with professional guidance.
Q: What certificates are approved for your product?
A: we have CE, FCC, ISO9001.