Wireless Control Air Hoist has been used in many fields, such as crane, construction lift, winch, hoist  and so on. The crane radio control system has two independent parts, the receiver and the transmitter, and the working range is up to 100meters, operating frequency is 310-331Mhz or 426-445Mhz, total 160 channels.
To improve your work efficiency and keep your worker's safy, wireless remote control will be your best choice, single speed or double speed. Except 2 button, we have different number of button, such as 2 button, 4 button, 6 button, 8 button ,10 button, etc. 
High quality with reasonable price will offer you by acontrol remote, send your reuqirement or information to us, proper model will be offer you.
Thus, this model are popular in UK market, can be used for mobile lifting, electric cart, hoist, winch, super winch , etc or other equipment you want to control.
Description:
1.Model :F21-2S-2TX
2.2 function button
3. One speed
4. Waterproof and dust-proof
5.Used for chain hoist
Safety Features: 
Unique 4.3 billion ID code

Hamming Code

Enhanced watch-dog circuit
Customized product:Button Text: Arrow tip or you offer,  2 transmitter with 1 receiver or spare transmitter, voltage, etc
---
Basic Information:
Transmitter data:
TX Model

F 21-2 S-TX-V-(E)

TX Size

about 15.6*5.6*4.9 cm

TX Weight

about 208 g(without Batteries)

Housing Material

Glass fiber-reinforced nylon-6

Protection Degree

IP 65

Temperature Rating

 -35°C ~ +85°C(Regardless of the battery temperature tolerance)

TX power Supply

Two 1.5 volts Batteries(AA Size)

Number of buttons

2 Single speed buttons,1 START button,1 mushroom button 

Button Marking

Arrow tip or English 

I.D.Code

4.3 billion

Voltage Warning

TX Red LED will flash slowly when the volts under 2.2 V,

and unable to start TX under 1.8 V.

Operating Frequency

310.0325-331.165 MHz

Channel Spacing

0.2675 MHz

Channel 

80 CH

RF Power

<10 DBm

Fault Detection

TX Red LED is flashing quickly: 1.Not in the correct way to start;




2.One of the push button is jammed.




TX LED will flash slowly: 1.Please change two new batteries
Receiver Specification
RX Model

F 21-2 S-RX-V-(E)

RX Size

18.7 x 8.6 x 7.9 cm

RX Weight

about 584 g

Housing Material 

Glass fiber-reinforced nylon-6

Protection Degree

IP 65

connection diagram

English

Temperature Rating

 -35°C ~ +85°C

Power Supply

AC 380 V,AC 36 V,AC 220 V,AC 110 V,AC 48 V,AC 24 V,

AC 12 V / DC 12 V,AC 380 V/AC 220 V(50-60 Hz)

Relays

2 Relays control functions,1 relay control EMS and 1 relay reserve 

Output Relays

5 Amp Omniseal Relays(AC 250 V/10 A Relays ,10 Amp fuse)

I.D.Code

4.3 billion

Channel Spacing

0.2675 MHz

Channel 

80 CH

Sensitivity

≧-110 DBm

Interface

Cable output
---
Feature:
2 function button (up / down) customized button text are available

 Control Point is up to 2 

Function button can be set to Normal, toggle, etc 

 Material: Glass fiber-rain forced nylon-6

 IP 65, waterproof and dust-proof 
Connection Diagram: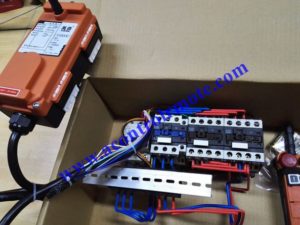 If you want to spare transmitter, it is also available. 
Package: 
1 set per box, 10 set per carton . 
F 21- 2S application: 
Winch equipment
2 ton electric chain hoist
Electric Cart equipment
Door
Wireless Remote Garage hoist
Synchronized lifting chain hoist
Other equipment winch control point is under 2.
Small sample order for test is available.